Empire State Human - Interview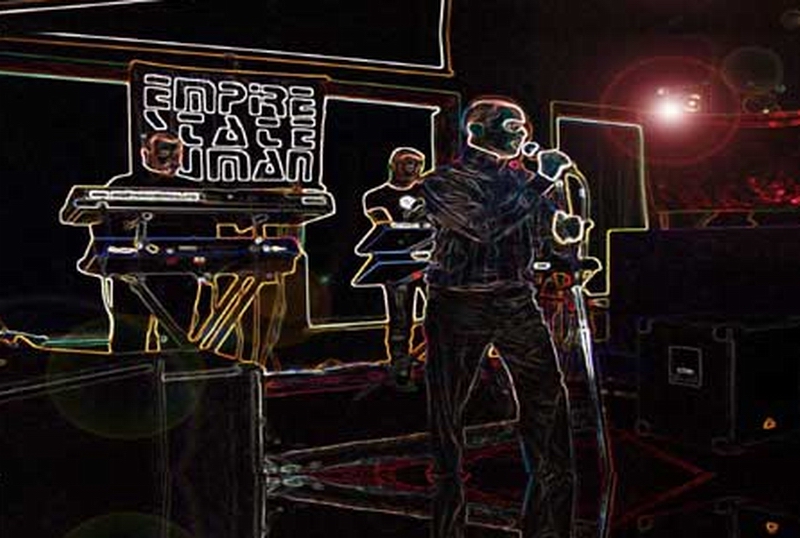 "We humans, have always looked to the stars for answers..."
01. First, tell us some things about how ESH met & started making music. It's not so common for a group from Ireland to play synthpop..
In 1999 we collectively formed what is known as Empire State Human (or ESH if you would prefer), with the idea to create electro-pop music, containing an analogue/digital production twist, in a futuristic electronic style. We felt there was a serious lack of bands doing this in a 'song-based' way at that time, as opposed to 'semi' song-based 'electro' or instrumental music, which there is quite a bit of. We wanted to utilize the Internet to help us sign a non-EU record deal first, to give ESH a more outwardly 'international' look, as opposed to only seeing ourselves as just an Irish or UK orientated band. That's why our songs are about such diverse subjects as double agents in Tokyo, escaping to Mars, pop robots, Munich robots or either time/travel, being lost in space or flying down to Rio, to escape the crime underworld, or even discovering your best friend is a serial killer!! (That's quite a diverse list of subject matters).
We're really driven and intrigued by quality pop-music, and musical pioneers such as BBC Radiophonic Workshop, Raymond Scott, Kraftwerk, science fiction, film scores, Elvis, Bowie & The Beatles; which collectively help us visualise our musical goals. ESH has proven to us that having quality songs, can deliver a record contract, help write music for a Sony Playstation advert, and also help us play live not only in Dublin, but also in New York and continue to improve both in the studio and playing live.
02. "Tall, tall, tall, I want to be tall, tall, tall…as big as a wall, wall, wall…"
Obviously your name comes from the classic Human League song. Was that accidental or the lyrics of that song are relevant with ESH's attitude & expectations?
We see ESH as very much of an escapist type of band, both lyrically and in our ideology. We tend to write material that encompasses many different themes and concepts. The lyrics to that particular Human League song are indeed relevant to what we're trying to achieve with this band. That line is a good mantra to anyone who aspires to improve themselves. We deliberately took that name because it was a striking and memorable one and visually it looked well on posters, CD's etc. It's not meant as a tribute to the Human League and we've no interest in copying the League musically either, as good as they are, but instead we want to make our own waves and try create our own sound and style.
03. I listened to that great cover of Bowie's "five years" you've done for the limited edition of "pop robot" cd. So, David Bowie seems like an obvious influence for ESH. Kraftwerk is another one I think. What other artists have inspired you & what do you listen these days?
Thanks for the compliment! We appreciate your kind words on our cover of a great David Bowie song. We listen to many varying styles and love all good music, from instrumental and song based electro, to ambient and glam rock, through to film music, techno, folk, ballad, blues and early rock n' roll. All music has something good to offer; once it's got melody, structure and passion, then we're fans. It's easy to assume that because we make electro-pop, that that's what we listen to all day, but that would be far from the truth, as we'd never leave ourselves open to merely becoming a band that wants to sound like the electro bands we listen to.
04. UK & Ireland have tradition in pop music, but synthpop seems to be taken over by German & Scandinavian bands the last decade. Can you explain this?
Popular music goes through trends and currently that trend seems to dictate what areas of the world produce certain types of music. In Ireland for example, there's no one really making the type of music we make so we can't really say that we're representative of what's the established norm over here. In the past 20 years, Europe has always produced the biggest electronic bands and that's something that seems to be the same today. Biggest isn't always the best though, and many territories around the world are making up ground fast. We can't say that we know the reasons or have an understanding as to why Germany or Scandinavia have such big electronic/synthpop bands, but it may have something to do with the fact that together, they're a very big market place in themselves and they can cultivate, support and encourage the type of music that they want, because it's what they really want to listen to and they're not being dictated to by a major record label, like in many other parts of the world today.
05. Are you happy with NinthWave records? Would you prefer to be in a "bigger" label? Are there any plans for a deal with a European label?
At the moment we're very happy to be with a label that gives us space to develop and grow. Ninthwave supports us 100% by releasing the types of albums we want to release and never ask us to change our style or dictate genres to us. It's been a big benefit to be able to grow this way, both musically and artistically. We want to become the type of band we've always admired and listened to ourselves and when that happens, we'll be in a better position to approach and deal with bigger labels. Ninthwave definitely have a big enough roster of great bands to appeal to a wider audience, so it's very possible that they can become a much bigger and more successful label in the next 2 to 4 years. We do intend signing with a EU label when the opportunity arises. We're becoming more and more well known over here in Europe, Australia and Japan month by month, as our web stats from our www.empirestatehuman.com
06. "pop robot", "robot love", spacelab one", "Apollo", "flight from Mars" etc…Are you really obsessed with space and technology?
We're more obsessed with writing about concepts and ideas which expand our minds and song standards using subjects matters other than relationships. Doing so help us grow as a band tremendously. We've noticed more and more artists are writing about similar themes, such as in the songs you've listed. Those ESH songs were written in 1999 and 2000 and are taken from two albums, 'Martian Anthems' and 'Pop Robot', both of which are concept albums. The best tracks from 'Martian Anthems' were added to 'Pop Robot' to make a new expanded version which Ninthwave Records then released in 2002. Now with the addition of a social element into the ESH lyrics in our new material, we feel we're growing and becoming even more all encompassing with each new album. The new single 'Liquid Blue', is a very personal lyric and is nothing to do with technology at all, but more to do with the inner workings of the mind. It's passionate, more sensual and darker than any other ESH song so far. Other songs from the new album 'Urbanism', such as 'We Are Industry', 'Dollar' In Blue Collar', 'Dreams In The Mirror', 'Spinster's Kiss', 'High' and 'Post Madonna' all develop on a more social comment sort of way.
We're busy at the moment in our studio (Electric Eye) working on more new songs and remixes, so those who are interested should keep an eye out at www.empirestatehuman.com for our many new releases in the next year and a half.
07. I really like the contrast between ESH's "cold" electro sounds & the emotional & soulful vocals of Aidan. Reminds me of Martyn Bates from Eyeless in Gaza..
Aidan vocals help give our sound a more human edge, as he sings in a naturally soulful way. Along with some very melodic vocal lines, which are now a trade mark of every ESH album, this soulful-ness helps give us a more individual identity within today's scene. With each release, he's improving his technique and with each new ESH production at Electric Eye we're improving as producers. We can't say that we've heard of Martyn Bates from Eyeless In Gaza though ...... sorry.
08. You'll soon have a new single out & an album on the way. How's it gonna sound? Will there be any differences from your previous records?
The new single 'Liquid Blue', should be out end of September. Produced brilliantly by John Giacobello (ex-Count To Infinity and now Giallo) it's a hard, melodic and hypnotic machine sounding electro-pop song. We think it's one of our best new songs. The lyrics are very sensual. It's an 8-track single release, and we've written a new instrumental for it called 'Time/Travel'. Each track is a different song and not just a re-working of the single itself. We're looking to a September/October release date for 'Urbanism', even though it's completed now and waiting mastering. Release time schedules dictate everything in this game. We've worked with a number of different producers (John Giacobello, Tycho Brahe, Wave In Head, Synthetik FM, One Lazy Ear studio & No Comment) on these next two releases as well as producing a number of tracks ourselves at our new studio called Electric Eye. We feel that 'Urbanism' is a more polished production over all; think of the first half of 'Alpha & Omega' continued for a full 10 tracks.
We actually re-recorded the whole of 'Urbanism' between July 2002 and March 2003. Having completed a first version of it in early 2002, we felt that it wasn't quite the right sounding electro-pop album we wanted and hoped it would be.
We felt as it had some of our best songs written so far, the production sound would have to match it. So we went back to the drawing board and decided on a number of other producers. We've tried new things with this album, like opening it with an extended 8 minute mix of a song, lengthening the tracks over all instead of sticking to our traditional 3 minute 'pop' arrangement. The tempo's are quicker, more club orientated. We added an unexpected quick 'closing' instrumental piece onto the albums only slow song ('Spinster's Kiss'), which helped give it some more depth. There's even a funk feel on the track 'Digital City', which when playing live we add Madonna's 'Music' to, with great sonic effect. We've even taken melody lines from an existing song on the album and re-working them into a new and different track (check out the song 'Reprise' which contains vocal samples from 'Dreams In The Mirror').
We've cut back the track number on our albums to 10 songs in total. We'll work this way again in the future, recording a larger number of tracks and then picking the best 10 for an album.
Watch out for our version of The Cult track 'The Witch', which will feature on a compilation tribute album called Electro-cuted - A Tribute to metal/rock Gods released by a new label called Kiss My Asterix Records
www.kissthestar.com . Also, we're covering a Boytronic song for a tribute album that the German label Intrapop www.intrapop.de are putting together, as well as remixing a number of other bands ourselves at Electric Eye.
09. Which is your favourite all time album?
We couldn't answer such a question as we love so many albums. It's a bit like asking a dictionary what word do you like the best! We just can't pick one single album. Anything by Elvis, The Beatles, Bowie, Scott Walker, Ennio Morricone, 70's Moroder and Sparks will do nicely. Kraftwerk's 'The Man Machine' is timeless and easily their best album (thanks to Karl Bartos) and The Beatles 'White' album and 'Sgt Pepper' are mind blowing and is 'Pet Sounds' by The Beach Boys. Donna Summer's double album 'Now I Need You' is superb and a land mark in conceptual electro-pop. Finally, Sparks 'Gratuitous Sax & Senseless Violins' album, from the 1990's, is pure pop heaven too. Well at least you have us down to a handful of albums anyway, not bad .........
10. You seem to have interest in film music. Is there any particular film that you would like to compose its soundtrack?
ESH would love to compose a sci-fi or a western feature movie soundtrack. We've had an offer to compose original music for a short crime movie and also a short western too, which we hope will all get to see the light of day one day. We've composed for TV/Cinema adverts before and have proved that we have the ability to compose music for a visual medium, so it's very possible that one day we'll get more opportunities in this area.
11. What gear do you use during recording? All these synth analogue sounds are coming from old synths or software? Which are your favourite synthesizers?
We mix real synths (Korgs and Roland), modules, drums machines with virtual synths/programmes and incredible effects units on the computer, which enable us to have all the old gear in a virtual form, as opposed to real keyboard versions. It's a great balance of technology with physicality, if you get our drift? Sean is ESH's main programmer now and he's wonderfully fast, meticulous and dedicated to creating the very best work possible with the equipment available. Sean joined in early 2003, taking over a full time position in the band from Brian O'Malley, who's gone onto full time Directing. Sean's one of the big reasons why we'll be as prolific as possible in the coming months, with regard to new songs and remixes for ourselves and other artists.
12. Do you like playing live? Tell us something about your live experiences.
We really love playing live very much, and it's a medium we seem to get a lot of positive feedback in. On average we play live every two to three months and for every gig we add something new, be it new songs or improved remixes. The great thing about playing live is that you can change your set list and song order or even mixes from gig to gig, depending on how the audience reaction to each song is. But when delivering a new album you have to live with it after it's released. You can't decide to alter a track order or mix later, because it's so final. But playing live, is a great way to develop your sound with the next album in mind. When we play venues that are large enough we can avail of two big screens, on which we project sci-fi manga animation onto. That's helps add a lot of visual power, to match the power of the music and when the lighting and sound guys get to grips with all that they do, it can be one of the best feelings in the world. Every gig is well promoted via www.empirestatehuman.com so fans can always find out when the next one is on.
We played live in New York last October 5th and it was a brilliant experience and we were very well received. We would love to play abroad more, but we understand that to do it properly we need the assistance of a professional promoter, agent & manager. We intend looking into professional management later this year, with this in mind.
We recorded a live album in 2002 called 'Live On Mars', which we're giving away free with the first pressing of 'Urbanism'. People can check us out live using the following link: http://www.empirestatehuman.com/video.htm
where there's a live video recording of us performing a song off 'Urbanism' called 'We Are Industry'
13. Do you believe that electropop music will ever make it in the charts again like in the early 80's with bands like Depeche Mode, Tears For Fears, Yazoo, Ultravox, etc..?
Well electro-pop is in the charts all over the world today but people don't seem to be recognising it. Madonna, Kylie & Danni Minogue, Richard X Vs Liberty X, TokTok Vs Soffy O, Royskopp, Zoot Woman, Les Rythmes Digitales, Telepopmuzik, W.I.T., Felix Da Housecat, Ladytron, Saint Etienne, all William Orbit's amazing productions, TaTu, and many, many more are today's electro-pop. We have to learn to accept that the early 80's sound isn't one that's going to be as big or as commercially viable or even get back in the charts, unless of course there's a novelty element to it, like the Gary Numan samples on Sugababes or Basement Jaxx records. Music has developed and moved on, so it would be wrong to think or expect the guys and girls who buy today's singles to want to buy 80's sounding CD's. If anything, it will be repackaged and remixed into a new hybrid variation, like Fisherspooner for example, and sold that way. We must learn to look forward and support the new and upcoming electro-bands in our scene more. That's the answer to what we feel is missing in today's charts, or what's not on Top Of The Pops. We must associate ourselves with a modern sound and we see Empire State Human creating contemporary electropop with a retro edge bit by bit, album by album.
14. What's your favourite Irish group/artist?
The Undertones or U2.
15. "a wonderful feeling, I leave planet earth far behind…" Is that an option? A wishful thinking?
It's a lust for escapism ;-)
Seriously though, those lyrics are taken from our song 'Apollo' and it's a song that's part about what happened to Apollo 13 but also the importance of all the Apollo missions on what we've become today and about how it's taken the children of the Apollo generation to really appreciate their accomplishments fully. With so many people interested in space travel as a commercial option, it's something that will certainly be on offer to the average man or woman in the street in the next 30 years or so. Aidan was recently talking with Dan Burke of the band NukleoN, and he also firmly believes this as well.
We humans have always looked to the stars for answers, whether by reading a H.G. Wells or Jules Verne book or by going to the cinema to check out the latest futuristic/sci-fi film. We're all searchers, dreamers and voyeurs and that's a very powerful concoction of interests.
Interview by Kostas Brellas,