The Raveonettes - interview 2005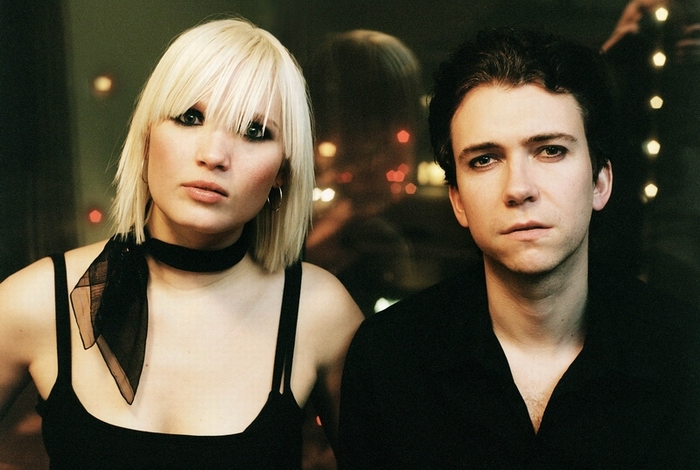 Με αφορμή το  dj-set των Raveonettes στο Χοροστάσιο club την παραμονή της πρωτοχρονιάς, το δανέζικο συγκρότημα  μας έδωσε μια αποκλειστική mini συνέντευξη.
an interview with
The Raveonettes
 Your last album "pretty in black" has very strong 50's and 60's influences...

Raveonettes : Yeah, I was listening to '50s and '60s music when I was a kid. It just sort of always stuck with me. I decided to make music listening to all those old records , so that inspiration will always be there and will probably haunt my songwriting forever.

 

 In your 2002 ep "whip it on" and the 2003 lp "Chain gang of Love" all tracks were written in the same chord (major and minor). That was something
strange, yet very progressive. Why have you chosen to change that one chord
style, to something more Ramones styled -three chords and three minute long
tracks- in "Pretty in Black"?

Raveonettes : We like changes and I feel the world would be a better place if we switch things around a bit. I can't wait to see what happens next.

 

 So, you will be in Athens, for a dj set at a club. How different does it seem to you, not to be playing music on stage, but being in a dj booth choosing the music? I mean, either way, you are trying to entertain the audience, but how does one differ from the other?

Raveonettes : When you're in a dj booth you have the opportunity to play many different genres of music, which you don't really have when you play live. You can also hide from people which is pretty hard when you're on stage.

 

 David Bowie has said that in a man's life talent is 20% and style the
other 80%. Ravonettes seem to have plenty of both.Your music seems to be influenced by the mid 60's, rockers style, and your clothing from the mods. In this battle, between rockers and mods, which side do you support?

Raveonettes : I guess mr Bowie knows little better in matters of style. I can't tell for sure, if I was back in the 60's, but now I support them both! Our style is pretty much just how we are anyway. We're inspired by b-movies and Hitchcock, and film-noir.

 

 In New York you had your gear stolen. I've read in a magazine that a female member of the philharmonic orchestra in L.A- had her Stradivarius
violin stolen, but it was found a few days after, in a trashcan. That woman
said that she would rather the robbers had stolen the violin, than to throw
it away as trash. If you found your guitars in a trashcan, like that woman, how would it make you feel?

Raveonettes : I would feel very exhilarated. Those guitars are priceless and have been a huge part of my musical life. I don't dwell on these things too much though, we''l buy new ones and rave on!

 

 I guess that one of your favorite artists ever is Buddy Holly. Is it
truth that the name "Ravonettes" is taken from Buddy Holly's song, "Rave
on"?

Raveonettes : It is. And the "ettes" is taken from The Ronettes, The Marvelettes, The Shamettes, etc...

 

 Did you hang out, the last time you visited Athens? I have information that you have been in a bar a night before your gig. What kind of
places do you prefer to hang out, not only in Copenhagen, but generally?

Raveonettes : We hung out and had a lot of fun in Athens! We had great food and met many cool people. I like places where you can smoke cigarettes.

 

 What kind of music do you have in mind to play at Horostasio club in New Year's Eve?

Raveonettes : We'll play a mixture of old and new. I like to play Adult. , Vive La fete, LCD Soundsystem, Miss Kittin, Depeche Mode, etc. Electronic stuff and old stuff, it depends on people's mood too..

 

 Do you have plans for a new album in 2006? Any cover versions? A live album? Maybe plans for a tour? Maybe for some other special guest like
Ronnie Spector, Martin Rev and Mo Tucker?

Raveonettes : We wanna do a new album, but I don't know about guests yet. We sent that song for our last album to Ronnie Spector of the Ronettes because we thought it was the perfect song for her to sing on, and we were very flattered she liked it and aggreed to do it. I still don't know about our next one though, probably no cover versions either.

 

 You will be the opening band for Depeche Mode in some shows. How do you feel about that?

Raveonettes : It's a great opportunity for so many people, that probably wouldn't bother, to hear our music. Depeche Mode are a huge influence to electronic music, we like what they do and we're very happy about these concerts.

 

 The last one. What do you think about music at the moment? Do you have
any favourite bands or artists that are producing music from 2000 onwards?

Raveonettes : Yes, I like The Arcade Fire, Primal Scream, Interpol, The Brian Jonestown Massacre and The Warlocks.

 

 Thank you very much for that interview. Hope to see you in Athens djing..

Raveonettes : Definitely! Thanks. see you soon.
Interview by Vassilis Dalianis.
Constructed and edited by Kostas Brellas.