To 22o Wave Gotik Treffen!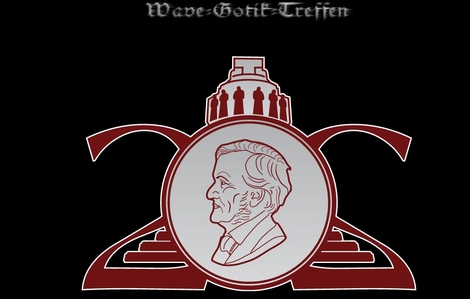 Το 22o Wave Gotik Treffen της Λειψίας θα γίνει φέτος από 17 ως 20 Μαίου 2013 και ήδη έχουν ανανοινωθεί 125 συμμετοχές, μεταξύ των οποίων μπάντες όπως οι I Like Trains, IAMX, Ulver, Sex Gang Children, The Cassandra Complex, Welle:Erdball, VNV Nation, Suicide Commando και αρκετά ακόμα κλασσικά electro σχηματα, ενώ με χαρά βλέπουμε φέτος να ανανενώνεται ηχητικά το line-up με κάποια λιγότερο σκοτεινά και γνωστά συγκροτήματα όπως οι Frank (Just Frank), KVB, Xeno & Oaklander, Soft Kill και η λίστα δεν έχει τελειωμό...
Παρακάτω βάζω πληροφορίες για ότι μπορεί να θέλετε να μάθετε όσοι σκέφτεστε το ταξίδι στην Λειψία, σχετικά Links και την μέχρι σήμερα λίστα με τα συγκροτήματα:
22nd Wave-Gotik-Treffen
- Date: May 17th to 20th, 2013
- Location: Leipzig, eastern Germany (at about 40 venues, spread all over the city); camping site and main venue at the edge of town at the "agra-Messepark" Markkleeberg; for information on the city you may checkhttp://en.wikipedia.org/wiki/Leipzig or the official city website www.leipzig.de/int/en.
- Websites:
www.wave-gotik-treffen.de/english
www.facebook.com/WaveGotikTreffen
If you are travelling to the WGT for the first time, you can find lots of useful information for planning your trip on:www.sadgoth.com
- Music styles:
All sub-genres of dark music: Gothic; EBM; Industrial; Ambient; Neofolk; Synthpop, Goth-Metal etc.
- Tickets:
4-Days-Ticket for all events within the 22nd Wave-Gotik-Treffen Whitsun 2013, for 89,- € each in advance ticket sale
(including advance sale charges). The Treffen-Event-Ticket includes free using of public transport (tram,
city-busses, regional trains, suburban trains within the zone 110 of MDV) from May 17th, 8.00 a.m. to May 21st, 12.00
p.m. / noontime (except for special routes).
- Camping:
For camping you need a special ticket called Obsorgekarte for 25,- € (including advance sale charge). It provides the
following service-package:
Camping at the Treffen-Campground (agra-fairground)
"Pfingstbote" ("Whitsun-herald") - the extensive Treffen-program book
 
- Parking:
For car parking at the Treffen-area you have to purchase a parking vignette for 15,- € (including advance sale charges).
Parking at the Treffen-area (agra-fairground) is definitely not possible without a parking vignette.
All tickets can be ordered via www.wave-gotik-treffen.com
- Expected number of visitors:
approximately 20,000
- Contact:
Phone: 0049-341-2120862 / Email: info@wave-gotik-treffen.de
Wave-Gotik-Treffen: dark-romantic celebrations every year at Whitsun in Leipzig - Germany
Twenty-two years ago, two Gothic people from Leipzig had an unusual idea: They didn't want to create yet another dark
music festival but rather a supra-regional gathering of like-minded fellows for relaxed meeting, chatting and celebrating.
When the 1st Wave-Gotik-Treffen took place in 1992 at the edge of Leipzig with about 2,000 visitors and just a handful
of bands, it is unlikely that anyone imagined that within a few years the WGT would become the largest meeting of
Gothic people in the world, taking possession of a whole city every year at Whitsun.
In 2013 the WGT takes place for the 22nd time. From May 17th to 20th again more than 20,000 Gothics from all over the
world are expected to come together again in Leipzig to celebrate the Wave-Gotik-Treffen as THE international
gathering of the dark family.
Bands and Artists 2013
Currently there are 125 artists confirmed.
<1979> (D) - A Split Second (B) - Abney Park (USA) exclusive German show 2013 - ACTUS (H) - Alexander Paul Blake's Aethernaeum (D) world premiere - Altar Of Plagues (IRL) - Asche (D) - Aslan Faction (GB) - Bloody, Dead & Sexy (D) - Brigade Werther (D) - Brigandu (D) - Bruderschaft (USA) exclusive european premiere - Burn (D) - Catastrophe Ballet (D) final farewell show - Contrastate (GB) - Crematory (D) - Darkwood (D) - Das Moon (PL) - Decoded Feedback (CDN) exclusive German show 2013 - Desireless & Operation Of The Sun (F) - Devilish Impressions (PL) - Die Selektion (D) - Digitalis Purpurea (I) - Din Brad (RO) - Duncan Evans (GB) - Dunkelschön (D) - Echo West (D) - Enabled Disaster (D) - End Of Green (D) - Ensiferum (FIN) - Esben & The Witch (GB) - Fejd (S) - Formalin (D) - Frank (Just Frank) (F) - Future Trail (D) - Gitane Demone (USA) - Grausame Töchter (D) - Halo Effect (I) - Hautville (I) - Hecate Enthroned (GB) - Henric De La Cour (S) - Hypnoskull (B) - I Like Trains (GB) - IAMX (GB) - In Mitra Medusa Inri (D) - In Strict Confidence (D) - Incite/ (D) - Incubite (D) - IRM (S) - Iszoloscope (CDN) - K-Bereit (F) - Karin Park (S) - KMFDM (USA) - Koffin Kats (USA) - Korpiklaani (FIN) - Kosheen (GB) - Lacrimosa (D) - Leather Strip (DK) - Letzte Instanz (D) - Lord Of The Lost (D) - Lux Interna (USA) - Martial Canterel (USA) - Metallspürhunde (CH) - Nachtgeschrei (D) - Namnambulu (D) reunion - Naughty Whisper (I) - Negură Bunget (RO) - Noisuf-X (D) - Nomans Land (RUS) - Objekt/Urian (D) - Orange Sector (D) - Other Day (D) - Passion Play (GB) final farewell show - Patenbrigade Wolff (D) - Phosgore (D) - Pokemon Reaktor (D) - Predominance (D) - Proyecto Mirage (E) - Prurient (USA) - Readjust (D) - Reformed Faction (GB) - Soft Kill (USA) - Saltatio Mortis (D) - Scarlet Soho (GB) - Serpentyne (GB) - Sex Gang Children (GB) - She Past Away (TR) - Shiv-R (AUS) - Skeletal Family (GB) - Sleeping Dogs Wake (GB) perform "Understanding" - worldwide exclusive one-off show - Solar Fake (D) - Soriah (USA) - Still Patient? (D) - Suicide Commando (B) vintage set - Sutcliffe Jügend (GB) - Thundra (N) - Talvekoidik (D) - Tears Of Othila (I) - Terminal Gods (GB) - The 69 Eyes (FIN) - The Birthday Massacre (CDN) exclusive German show 2013 - The Blue Angel Lounge (D) - The Breath Of Life (B) - The Cassandra Complex (GB) - The KVB (GB) - The Mescaline Babies (I) - The Spiritual Bat (I) - The Spook (D) - The Twilight Garden (USA) - The Vision Bleak (D) - Theatres Des Vampires (I) - Ulver (N) exclusive performance with orchestra - Unitary (S) - Unzucht (D) - Vatican Shadow (USA) - Velvet Acid Christ (USA) exclusive European show 2013 - Vermaledeyt (D) - VNV Nation (GB) - Welle:Erdball (D) - Whispers In The Shadow (A) - Winterkälte (D) - Wipeout (A) - Wolfchant (D) - X-Improviso (NZ) - X-In June (D) - Xandria (D) - Xeno & Oaklander (USA) -
For more information about the confirmed artists, there is a list of their official webpages here:
http://www.wave-gotik-treffen.de/forumwgt3/viewtopic.php?f=3&t=16155
On the WGT website, you can enrole for a newsletter which quickly informs you about the latest program updates.