Αποκλειστικό: οι AND ONE στην Αθήνα!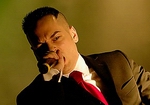 H ακριβής ημερομηνία του event είναι η 4η Μαρτίου 2007,
ενώ αναμένεται να ανακοινωθεί και ένα ακόμα συγκρότημα που θα
πλαισιώσει τον Steve Naghavi και την παρέα του. Η διοργάνωση είναι από
την ομάδα παραγωγής του elfentanz που είχε ξαναφέρει τους And One πριν μερικά
χρόνια, ενώ περισσότερες λεπτομέρειες που αφορούν τον χώρο, το πλήρες
line up και την τιμή του εισιτηρίου θα ανακοινωθούν σύντομα.
Stay tuned!