Chemical Brothers new album details.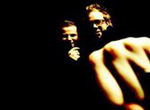 01. No Path To Follow
02. We Are The Night
03. All Rights Reserved (Featuring The Klaxons)
04. Saturate
05. Do It Again (Featuring Ali Love)
06. Das Spiegel
07. The Salmon Dance (Featuring Fatlip)
08. Burst Generator
09. A Modern Midnight Conversation
10. Battle Scars (Featuring Willy Mason)
11. Harpoons
12. The Pills Won't Help You Now (Featuring Midlake)
Πρώτο single το "Do It Again". Αναμένεται να γίνει hit το "The Pills Won't Help You Now".
Αρκετές ημερομηνίες έχουν ήδη ανακοινωθεί για live των Chemicals το καλοκαίρι (Glastonbury, Creamfields, Sziget).
On other news: πολύ μουσική από Chemical Brothers στο soundtrack του Ecstasy: Three Tales of Chemical Romance, της -βασισμένης στο ομώνυμο βιβλίο του Irvine Welsh- ταινίας που αναμένεται στους κινηματογράφους στο τέλος του 2007.