Clutch live @ Gagarin 205 - 21 / 06 / 2011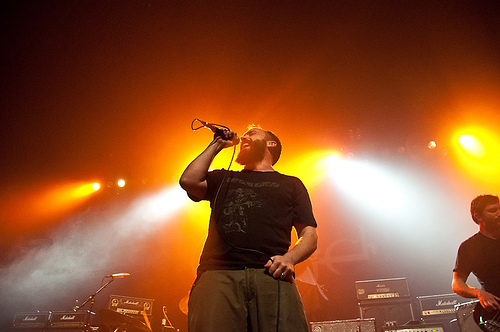 Υπάρχουν κάποιες μπάντες που ζουν σε παράλληλο σύμπαν με αποτέλεσμα ποτέ να μη βιώσουν την μεγάλη αναγνώριση και κανείς να μην μπορεί να τους κατανοήσει πλήρως. Μια τέτοια μπάντα είναι και οι Clutch από το Maryland που η κοσμική τους γραμμή τους έφερε στο gagarin για δεύτερο συνεχόμενο καλοκαίρι. Kανείς δεν μπορεί να προσδιορίσει το τι παίζουν ακριβώς. Ένα υβρίδιο από stoner rock, funk, post-punk, psychedelic, blues με σημείο αναφοράς το τζαμάρισμα, το χιούμορ και το anti-hype. Έχοντας θέσει τον πύχη αρκετά υψηλά από την προηγούμενη επίσκεψη τους, τους περίνενε ένα sold-out club. O Neil Falon και η παρέα του κατάφεραν να επιβεβαιώσουν τη φήμη που τους θέλει μετά από 21 χρόνια ύπαρξης να εδραιώνονται ως ένα νέο greek favorite συγκρότημα...
Τη βραδιά άνοιξαν οι Lucky Funeral, ελληνικό sludge-stoner-doom- συγκρότημα,που  δεν έχει να ζηλέψει τίποτα από συγκροτήματα του εξωτερικού. Με τραγουδιστή-"μορφη", χύμα διάθεση, καλό ήχο έπαιξαν τραγούδια από το ομώνυμο ντεμπούτο τους και το dirty history of mankind. Kαλός ήχος, καλή σκηνική παρουσία, καλές συνθέσεις, λίγο πιο heavy για το κοινό των clutch. Δυσκολα θα συνεχίσουν να παίζουν ως support.
Οι Clutch άρχισαν δυναμικά με τα "The Mob Goes Wild","PURe Rock Fury","Profits of Doom", έχοντας εξαιρετική διάθεση και συμμετοχή από τον κόσμο, με τον Neil Fallon να αρθρώνει τους σουρεαλιστικούς του στίχους  με απίστευτη ένταση και τον JP Casper (drummer) να δείχνει γιατί θεωρείται κορυφαίος στο είδος του.
Συνέχεια από το τελευταίο τους album strange cousins from the west τα groovy  "50,000 Unstoppable Watts" και "Struck Down". Επόμενα κομμάτια τα "Power Player" (φοβερός στίχος You don't know nothing about a Russian hooker), "Open Up the Border","Dragonfly","Child Of The City", τα οποία συνοδέυτηκαν από jamming και λίγο κούρασαν όσο κόσμο δεν έχει μπει στο "παράλληλο σύμπαν" τους.
Το Gravel Road με τις bues-boogie αναφορές και τις slide-κιθάρες  ξανασυντόνισε τον κόσμο. "Mice & Gods", "Cypress Grove", "Yeti", "The Devil & Me" σε δυνατούς ρυθμούς και το τριπαριστό Spacegrass.(Aκούγεται καλύτερα  live)
Όλοι όμως περίμεναν να ακούσουν το "Electric Worry", στο οποίο έγινε χαμός με όλο το gagarin να τραγουδάει Βang,Bang,Bang,vamonos,vamonos,vamonos. (Πολλοί έχουν μάθει το συγκρότημα από το συγκεκριμένο κομμάτι που παίζεται κάθε ανελλειπώς σε rock-club στο γκάζι).
Και ενώ αυτό φάνταζε σαν ιδανικός επίλογος μιας επιτυχημένης εμφάνισης, oι Clutch βγήκαν για encore και έπαιξαν ένα drum-solo τζαμάρισμα για δέκα λεπτά και απέδειξαν γιατί κινούνται σε διαφορετικό σύστημα αναφοράς, τελειώνοντας το set με το "Burning beard". 
Το μόνο σίγουρο είναι ότι ποτέ δεν θα γίνουν μεγάλη εμπορική μπάντα, αλλά η πορεία τους στο χωροχρόνο θα τους ξαναφέρει από τα μέρη μας.
Δημήτριος Αθανασούλιας