Dresden Dolls new video, Amanda Palmer solo and more news.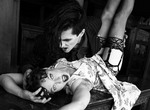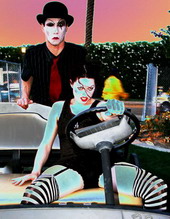 Για το solo της η Palmer συνεργάζεται με το Ben Folds (Ben Folds Five & solo), ο οποίος θα κάνει την παραγωγή, συμμετέχει σε drums και πλήκτρα και στο studio του οποίου γίνονται και οι ηχογραφήσεις. Εκτός από το trademark πιάνο της Palmer, συμμετέχει και η τσελίστρια Zoe Keating (Rasputina). Κάποια από τα tracks που θα περιλαμβάνει είναι τα ήδη γνωστά από τα live "Ampersand" και "The Point of It All" και κάποια νέα όπως "Guitar Hero" και "Runs in the Family". Λίγο διαφορετικό από Dresden Dolls, αναμένεται μέσα στο 2008 από το label της Amanda Eight Foot ενώ η ίδια λέει: "The songs range from intimate ballads to faster and harder
Amanda-assaults-the-piano thrillers. We've been
adding everything from organs and Leslie cabinets [keyboard speaker] to
strings, horns, and tympani. The final result should be biblical."
O Brian Viglione συμμετείχε στις ηχογραφήσεις του ντεπούτου album Fighting Naked των HUMANWINE αλλά και στις συναυλίες τους.
Οι Dresden Dolls αυτή τη στιγμή δίνουν συναυλίες σαν μέρος της, διοργανωμένης από τη Cindy Lauper και υπέρ της LGBT κοινότητας, True Colours Tour μαζί με τους Debbie Harry, Erasure, Gossip, Amanda Lepore κ.α.
The Dresden Dolls - Shores of California
{youtube}Awnjw36mNEs{/youtube}