Δύο νέα project από τον frontman των Front 242.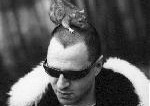 Πρώτη επίσημη εμφάνιση των 32 Crash στο φεστιβάλ της Alfa Matrix, η οπόια γράγει για τον ήχο τους: "an upbeat cocktail of influences ranging from electro to punk with an eighties flavour.", και πρώτο δείγμα το "Dust and Drought". 
Ένα ακόμα project του Jean-Luc De Meyer είναι και οι Modern Cubism, σε πιο πειραματικό μουσικό ύφος, το οποίο περιστρέφεται γύρω από την ποίηση του Charles Baudelaire.