Επιστρέφει ο David Sylvian!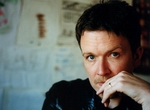 Αντιγράφω ένα ατόφιο απόσπασμα από το δελτίο τύπου, για να καταλάβετε:
On "Manafon", Sylvian pursues "a completely modern kind of chamber music.
Intimate, dynamic, emotive, democratic, economical." In sessions in London,
Vienna, and Tokyo, Sylvian assembled the world's leading improvisers and
innovators, artists who explore free improvisation, space-specific performance,
and live electronics. From Evan Parker and Keith Rowe, to Fennesz and members of
Polwechsel, to Sachiko M and Otomo Yoshihide, the musicians provide both a
backdrop and a counterweight to his own vocal performances - which, minus one
instrumental, are nakedly the center of each piece.
Sylvian's voice has
never been so dominant or so striking, and his resonant tenor and deliberate
vibrato captivate the listener from the start of "Small Metal Gods".  "It's like
a one-man monologue in which every change of light and backdrop is crucial to
the carrying of the central performance. It's an ensemble work even though there
is a central performance."
To "Μanafon" θα κυκλοφορήσει και σε deluxe έκδοση που θα περιέχει dvd με το film "Amplified Gesture".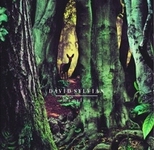 01. Small Metal Gods
02. The Rabbit Skinner
03. Random Acts of Senseless
Violence
04. The Greatest Living Englishman
05. 125 Spheres
06. Snow
White in Appalachia
07. Emily Dickinson
08. The Department Of Dead
Letters
09. Manafon
{youtube}KNKhtMKZXUg{/youtube}