Επιστρέφει ο Ian Brown!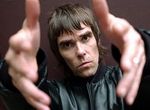 Οι παρακάτω δηλώσεις έγιναν αποκλειστικά στο NME που στο τρέχον τεύχος φιλοξενεί συνέντευξη με τον πολύ αγαπητό στο συγκεκριμένο μέσο καλλιτέχνη: "'Thriller' was our blueprint. Every time we wrote a song
we didn't think was strong enough, we scrapped it. We mastered it on the day
that Michael Jackson died too, so I'm taking that as a good omen."

Πρώτο single θα είναι το "Stellify", ενώ η παραγωγή έγινε από τον Dave McCracken. Και μια και μας έδωσε πάτημα, σας βάζω να ακούσετε και τις 2 παλαιότερες διασκευές που είχε κάνει ο Ian Brown σε τραγούδια του Michael Jackson...
 {youtube}KOVcSHgGHwc{/youtube}
 {youtube}wUBTy_8jO1s{/youtube}