The Faint are back!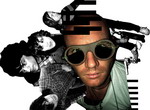 Οι Faint επιμένουν στο dance-punk τους αλλά και σε αυτό δίσκο μεταμορφώνονται, σύμφωνα με τον frontman Todd Fink. Δεν υπάρχουν ακόμα διαθέσιμα δείγματα από το album αλλά στα πρόσφατα ακούσματα της μπάντας συμπεριλαμβάνονται οι Crystal Castles, οι MGMT και οι Boys Noize ενώ ένας πρώτος χαρακτηρισμός για τα νέα τραγούδια είναι "sick".
tracklist
"Get Seduced"
"The Geeks Were Right"
"Machine in the Ghost"
"Fulcrum and Lever"
"Psycho"
"Mirror Error"
"I Treat You Wrong"
"Forever Growing Centipedes"
"Fish in a Womb"
"A Battle Hymn for Children"
"Agenda Suicide" video (from Danse Macabre album)
{youtube}xv8mJfDPxuA{/youtube}
 "I Disappear" video (from Wet From Birth album)
 {youtube}4f7tgprbjtg{/youtube}