H Ghost-Logik του Edward Ka-Spel!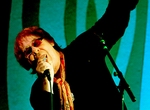 Aυτό ως κεντρική ιδέα, ενώ όσον αφορά το ύφος του δίσκου σύμφωνα με το δελτίο τύπου :  "..The atmospheres of the songs range from vast ambient spoken word spaces
to enduring psychedelic ballads where the warmth of Ka-spel's voice
moves with us in solitary, dilated harmony..."  Δεν το έχουμε ακούσει ακόμα και ανυπομονούμε, παραθέτω ατόφια και την δήλωση του ίδιου του καλλιτέχνη για το Ghost Logik:
"Nothing logical there. A lost soul or a missing moment, derailed
from the timeline, bleeding on the road as the headlights illuminate
and make an arc around it.That which cannot be explained must be avoided
for it is an aberration; a grain of sand on the sad eye of the good
Lord above. Only that which can be held in these reliable hands is
permitted here. So stop moaning. It keeps me awake and when I'm tired I
see things which are not there. Just wish it wasn't so cold in here.
It's July for Christ's sake yet this room feels like a freezer. ghost
logik. Nothing logical there. I'm repeating myself like that missing
moment, like that lost soul. Trapped in a loop, mocking time itself,
mocking all we are, everything we value, everything we believe in. Do
you believe in ghosts? hell yeah.... BOOOOO" - Edward Ka-spel
Το Ghost Logik θα κυκλοφορήσει σε 3 διαφορετικές εκδόσεις: Απλό digipack CD, limited box σε πράσινο πουγκί (250 κόπιες) που περιλαμβάνει ένα bonus 4-track CD , postcard, sticker και ένα μικρό φυλαχτό σε σχήμα κρανίου, ενώ τέλος υπάρχει και το Deluxe Silver Box σε 99 μόλις κόπιες, το οποίο περιέχει όλα τα παραπάνω, ένα τρίτο CD με 1 τραγούδι, ένα DVD, κάρτα Ταρό και ένα ξύλινο βραχιόλι. Η deluxe έκδοση κοστίζει 59 ευρώ. Παραγγελίες στην Rustblade.
Βάζω το tracklist της ακριβής έκδοσης και το artwork και των τριών δίπλα, συν ένα μικρό video-teaser για το αλμπουμ: 
Tracklisting:

CD 1

Ticket
Throwing Things
So What?
The Voyeur
Favourite things parts 1-3
The bunker
Brighton Line
Bye Bye
CD2

Spectrescape 1
Spectrescape 2
Spectrescape 3
Spectrescape 4
CD3

Patriot (version apocalypse).
DVD
Ghost Logik A Short Film
{youtube}9eY9iDWzOeM{/youtube}