Κι άλλες συναυλίες: Peter Murphy, Nina Hagen, No More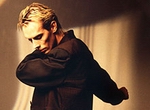 Το νέο του album είναι έτοιμο και περιμένουμε λεπτομέρειες, πρόσφατα ο Μurphy κυκλοφόρησε στα i-tunes 2 διασκευές. Η πρώτη είναι στο Instant Karma του John Lennon και η δεύτερη στο Space Oddity του David Bowie, την οποία μπορείτε να ακούσετε πιο κάτω. Όσον αφορά το playlist, κατά πάσα πιθανότητα θα περιλαμβάνει και τραγούδια των Bauhaus, αφού πριν μερικές μέρες έπαιξε Live τα Passion Of Lovers, She's In Parties, The Sanity Assassin, Burning from the Inside, etc... Τα εισιτήρια κοστίζουν 35 ευρώ.
Για τις άλλες 2 συναυλίες δεν ξερουμε ακόμα πολλά, απλά σημειώστε: Η Nina Hagen στις 24 Οκτωβρίου στην Αθήνα και οι επίσης γερμανοί No More (αρκετοί θα έχετε χορέψει το κλασσικό minimal χιτάκι "Suicide Commando" σε κάποιο club) στις 9 Οκτωβρίου στο Sin City με support τους Human Puppets.
 {youtube}GrC3zr6wTps{/youtube}
 {youtube}YslAyYSAG84{/youtube}