Λεπτομέρειες για το Bloodsports των Suede!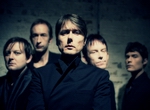 To νέο album των Suede όπως έχουμε ήδη πει ονομάζεται Bloodsports και θα κυκλοφορήσει στις 18 Μαρτίου 2013, ενώ το πρώτο single που θα έχει τίτλο It Starts and Ends With You
αναμένεται τον επόμενο μήνα.Σήμερα ανακοινώθηκαν και οι πληροφορίες που
αφορούν τις εκδόσεις, καθώς και το πλήρες tracklist και το εξώφυλλο που
μας γυρνάει πίσω στην αισθητική του Coming Up. LP, CD και 2 συλλεκτικά box sets με τσουχτερή τιμή. Αναλυτικά:
TRACKLISTING:
01.
Barriers 02.
Snowblind 03.
It Starts And Ends With You 04.
Sabotage 05.
For The Strangers 06.
Hit Me 07.
Sometimes I Feel I'll Float Away 08.
What Are You Not Telling me? 09.
Always 10.
Faultlines  
Suede
Bloodsports Hardback Book Ltd Edition & Signed Box Set   (11

9.00 E)
A beautiful high quality "Bloodsports" deluxe edition housed in a hardback book style packaging.
The deluxe bundle comes with a frame-ready high quality signed
print, a Suede USB stick with digital content and a "Bloodsports"
T-Shirt available in sizes S, M, L and XL.
Featuring:

- An expanded high quality booklet featuring lyrics and exclusive photos
- "Bloodsports" on CD, 180g audiophile 12" LP
- A Suede USB drive which includes the album in high quality and exclusive video content unavailable elsewhere
- An exclusive 7" featuring an unreleased B-Side
Suede
Bloodsports Hardback Book Box Set  (40.00 E)

A beautiful high quality Bloodsports deluxe edition housed in a hardback book style packaging.
Featuring:

- An expanded high quality booklet featuring lyrics and exclusive photos
- Bloodsports on CD, 180g audiophile 12" LP
- An exclusive 7" featuring an unreleased B-Side
PRE-ORDER
NOW:
DELUXE: http://smarturl.it/suede.store
{youtube}daQb_AKo7rs{/youtube}