Λεπτομέρειες για τη συναυλία των Devastations + Κόρε 'Υδρο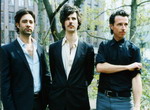 Astra proudly presents 
Devastations + Κόρε Ύδρο live 
Παρασκευή 2 Νοεμβρίου 2007 @ Gagarin 205 
Doors Open:  21:00
Τιμή Εισιτηρίου: 
25 €
Προπώληση: Ticket House – www.i-ticket.gr
Την Παρασκευή 2 Νοεμβρίου, το Gagarin 205 Live Music Space υποδέχεται ξανά τους Αυστραλούς Devastations, τη μπάντα που κατέκτησε τα ερτζιανά της πατρίδας μας με
το πανέμορφο "SexAnd Mayhem", τραγούδι που περιέχεται στο δεύτερο album τους, "Coal"
Ένα χρόνο μετά, επιστρέφουν με ένα ολοκαίνουργιο album στις αποσκευές τους. Το "Yes, U" κυκλοφόρησε στις 17 Σεπτεμβρίου και συνεχίζει στα
χνάρια των δύο προκατόχων του, περιέχοντας δέκα υπέροχα, συναισθηματικά
φορτισμένα, τραγούδια με σαφείς αναφορές στον ήχο ονομάτων όπως οι NickCave and the Bad Seeds, Tindersticks, National,  Madrugada, Thin White Rope, Velvet Underground, SergeGainsbourg, αυτή τη φορά εμπλουτισμένα από αρκετά ηλεκτρονικά
στοιχεία, μιας και τα μέλη του συγκροτήματος δηλώνουν πως, κατά την ηχογράφηφη
του δίσκου, επηρεάστηκαν και από καλλιτέχνες όπως οι προπάτορες του electro punk Suicide και ο μάγος των soundtracks αλλά και της disco μουσικής στα late 70's / early 80's Giorgio Moroder!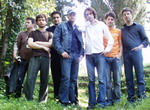 Τη συναυλία θα ανοίξουν οι Κόρε Ύδρο, ένα Ελληνικό συγκρότημα με μοναδικό
ήχο – με επιρροές που ξεκινούν από τον Χατζιδάκι και φτάνουν στους... Sonic Youth - και ιδιαίτερα ξεχωριστή πορεία τα τελευταία χρόνια. Το
πιο πρόσφατο album τους "Φτηνή Ποπ Για Την Ελίτ" απέσπασε εξαιρετικές κριτικές
από το σύνολο του Τύπου και διεύρυνε τον, διαρκώς αυξανόμενο, πυρήνα των
θαυμαστών τους.

Οι
πόρτες θα ανοίξουν στις 21:00 και εισιτήρια προπωλούνται, προς 25 ευρώ, στο Ticket House
(Πανεπιστημίου 42, εντός στοάς / τηλ. 210 3608366) και το www.i-ticket.gr όπου γίνονται και τηλεφωνικές κρατήσεις (μέσω
πιστωτικής κάρτας) στο 801 11 60000 (από σταθερό) και το 210 6786000 (από
κινητό).