Νέο album από τους De/vision!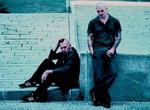 Το πρώτο τραγούδι που έχει ανέβει on line είναι το "what you deserve", ενώ άλλο ένα ολοκαίνουριο track που θα περιέχεται στο "Noob" με τίτλο "flavour of the week" υπάρχει δωρεάν για download εδώ.
Την παραγωγή την έχει αναλάβει αυτή τη φορά το ίδιο το group. Αναλυτικό tracklist και artwork αναμένεται σύντομα!.
Devision - love will find the way
{youtube}X7o1_ufdXbI{/youtube}