Nέο album από τους Magnetic Fields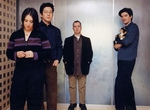 Συγκεκριμένα ο Stephen Meritt μιλάει για μια δουλειά με μπόλικο feedback στο πιάνο! "I don't know if anyone has done feedback piano before. The whole record has
feedback acoustic piano. We put the amplifier directly up against the frame of
the piano and turned it up enough to start feeding back."
Δεν ακούγεται και άσχημο ως ιδέα, αλλά για την ώρα αναμένουμε. Το tracklist του Distortion: 
01. Three-Way
02. California Girls
03. Old Fools
04. Xavier Says
05.
Mr Mistletoe
06. Please Stop Dancing
07. Drive On, Driver
08. Too Drunk
To Dream
09. Till The Bitter End
10. I'll Dream Alone
11. The Nun's
Litany
12. Zombie Boy
13. Courtesans