To νέο album των Rammstein!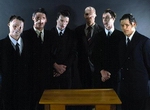 To video για το Pussy το έχει επιμεληθεί ο Jonas Åkerlund, σε λίγες μέρες θα μπορείτε να το απολαύσετε, αν και είναι σχεδόν σίγουρο ότι η δικτυακή τουλάχιστον έκδοση θα είναι censored... Κυκλοφορεί στις 18 Σεπτεμβρίου με b-side το Rammlied.
Ακολουθεί το tracklist του album, ενώ μια track by track παρουσίαση έχει ήδη γίνει από το Metal hammer και τη διαβάζετε εδώ.
"Rammlied" (Ramm-song)
"Ich Tu Dir Weh" (I Hurt You)
"Waidmanns Heil" (Hunters' Greeting)
"Haifisch" (Shark)
"B******" (Bückstabü)
"Frühling In Paris" (Spring In Paris)
"Wiener Blut" (Viennese Blood)
"Pussy"
"Liebe Ist Für Alle Da" (Love Is There For Everyone)
"Mehr" (More)
"Roter Sand" (Red Sand)