Το νέο album του Paul Banks των Interpol!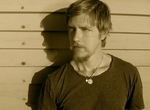 Πρόκειται για το τραγούδι The Base, το οποίο το βρίσκετε στην επίσημη σελίδα του Paul Banks, και το ακούτε παρακάτω. Σύμφωνα με το press release, το άλμπουμ είναι "personal and epic, catchy and serpentine - much like your favorite
Interpol albums - with Paul's wry humor, bare emotion, and varied
influences all in full effect.". Για να δούμε..
Track listing :
1. The Base
2. Over My Shoulder
3. Arise, Awake
4. Young Again
5. Lisbon
6. I'll Sue You
7. Paid For That
8. Another Chance
9. No Mistakes
10. Summertime Is Coming
{youtube}CuU3Nkv0xbc{/youtube}