Νέος δίσκος από τον Brett Anderson!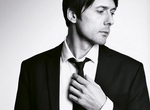 ok, so the album is all done and ready to roll. i recorded everything
live to 2 inch tape with no click tracks and just one other musician
playing cello.
Τhe whole thing was recorded and mixed in 7 sunny days in May and it was one of the most satisfying records i have
ever been involved with.
Ιt is simple, personal, bleak ,raw , romantic
and soulful and is full of the jagged edges and hiss and
crackle of the studio.
Οf course i love the songs, there would be
something very wrong if i didn't.some of you will love them too and
some of you will probably hate what i have done. Τhat's just
how it works. as long as your constructive critism doesn't become
personal invective i am genuinely fine with that.
Ι made the album with
the purest of intentions: to create a beautiful suite of songs
untethered by second guessing markets and playlists and music biz
bullshit . Ι have no record company, no publisher , and a dwindling audience but i have never been more confident and focussed
about what i am doing as an artist. the title of the album reflects
this sense of where i see myself but you will have to wait for
that.
there will be some new You Tube films appearing very soon of bits and pieces of new songs in their rawest form so keep
your eyes peeled....
i suppose i should tell you that
personally i have never in my life been happier than the time that i
made this record. it's a wonderful thing to reach 40 and
realize that your best days are still ahead of you..
a bientot.. x".
BRETT ANDERSON - wilderness rehearsals, may 2008 
 {youtube}8rMamIqGLfk{/youtube}