New Albums: The Irrepressibles, Robin Guthrie, Crossover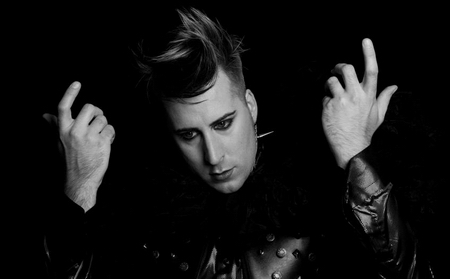 Τρεις νέοι δίσκοι από παλιούς και αρκετά νεώτερους γνώριμους. Αρχικά οι Irrepressibles, τους οποίους είχαμε γνωρίσει πριν 2 χρόνια με το ντεμπούτο τους Mirror Mirror. Η νέα τους δουλειά λέγεται Nude και για άλλη μια φορά χαρακτηρίζεται από τις ενορχηστρώσεις και την αρτίστικη μπαρόκ ποπ του Jamie McDermott. Πολλά έγχορδα, νεορομαντικές ερμηνείες, αν σας αρέσει το μελοδραματικό του Antony Hegarty και η glam αισθητική του Marc Almond, είστε μέσα..
Το video για το arrow, που βλέπετε μετά το εξώφυλλο και το tracklist, μπήκε στην age-restricted λίστα του youtube. Homophobic anyone?
01 – Time Passing
02 – Pale Sweet Healing
03 – New World
04 – Tears (Prelude)
05 – Two Men In Love
06 – To Be
07 – Arrow
08 – Tears
09 – The Opening
10 – Ship
---
Πάμε στον περίφημο και αγαπητό μας Robin Guthrie, έναν από τους πιο επιδραστικούς κιθαρίστες από την εποχή που μεγαλουργούσε στους Cocteau Twins. O καινούριος του δίσκος έχει τίτλο Fortune και περιέχει 10 instrumental συνθέσεις στο γνωστό ονειρικό και κινηματογραφικό μοτίβο που μας έχει συνηθίσει τα τελευταία χρόνια. Μια γεύση παίρνετε παρακάτω.
01 – Cadence
02 – Circus Circus
03 – Ladybird
04 – Tigermilk
05 – Like Water in Milk
06 – Lavona's Life
07 – Forever Never
08 – Perfume and Youth
09 – Kings Will Be Falling
10 – And So to Sleep, My Little Ones
---
Για το τέλος κρατησα τη νέα δουλειά των Crossover, που δεν είναι και τόσο καινούρια αφού έχει βγει από την άνοιξη και μου ξέφυγε. Οι Crossover είναι ένα ντουέτο από την Νέα Υόρκη που είχαν βγάλει 2-3 καλά albums στην μετα-electroclash (τι θυμήθηκα τώρα...) εποχή και φέτος επέστρεψαν ως τρίο με νέο άλμπουμ που φέρει τον τίτλο Gloom. Σχετικά σκοτεινή synthpop κατά βάση, αλλά ακούγεται ενδιαφέρον. Cover, tracklist και Video:
A1  Wraith in the woodz
A2  Luv sick vampires
A3  How covld I
A4  Mother ov god
A5  The bvrning
B1  Mvrderous glare
B2  Yr a ghost
B3  Don't tvrn yr back on magic
B4  Svmmer in Oslo
B5  Fog machine