Ο Till Lindemann δεν φεύγει από τους Rammstein. (updated)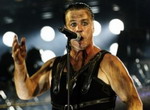 Οι Richard Kruspe και Christoph Schneider αν και
παραδέχτηκαν οτι κανένας δεν μπορεί να αντικατάστησει τον Till δήλωσαν
πως επειδή συνεχίζουν να περνάνε καλά με τους Rammstein έψαξαν και
βρήκαν ένα νέο τραγουδιστή που να είναι εξίσου χαρισματικός αλλά να μην
αντιγράφει τον Till. Και ο τραγουδιστής αυτός έχει ήδη υπογράψει και είναι ο En Esch, συνιδρυτής και πρώην μέλος των KMFDM. Ο En Esch αυτό τον καιρό ασχολείται με τη μπάντα Slick Idiot αλλά μετακόμισε ήδη στο Βερολίνο. Ο Till Linderman θα αποτελεί και επίσημα παρελθόν για τους Rammstein μετά την κυκλοφορία του νέου τους album, το οποίο έχει σχεδόν ολοκληρωθεί ενώ στα επερχόμενα live ο En Esch θα πάρει τη θέση του.
Το δελτίο γράφει ακόμη: "We all will miss Till Lindemann who gave us many years of joy by
listening to his unique grinding voice. Please welcome the talented En
Esch — Till's footsteps are big, but maybe he can dry our tears
rapidly."
Rammstein χωρίς Till λοιπόν... Γίνεται???! 
---
Αυτά είχαν γίνει γνωστά πριν λίγες μέρες. Η Pilgrim μετά το χαμό που προκλήθηκε φέρεται να χαρακτηρίζει πλέον τα παραπάνω ως φάρσα και να δηλώνει τα εξής: "that [news of Till's
departure] is not true and was not released by either band or
management. We have no idea where this comes from. The band is
[currently] writing a new album at present."
Ο En Esch ανέβασε στο myspace του το εκόλουθο blog: "SINCE I HAVE BEEN CONTACTED BY MANY FRIENDS, FANS AND ACQUAINTANCES
ABOUT THE NEWS THAT I'M THE NEW SINGER OF RAMMSTEIN I THINK I NEED TO
SET THE RECORD STRAIGHT. ALTHOUGH IT SOUNDS INTERESTING, IT IS NOT TRUE.
I'M WORKING ON NEW SLICK IDIOT MATERIAL AND AM IN THE MIDST OF MIXING TRACKS FOR MONA MUR.
RAMMSTEIN AND I ARE AND WILL STAY FRIENDS AND I WISH THEM THE BEST IN THEIR FUTURE ENDEAVOURS."
Αλήθεια, ψέμματα, internet panic ή publicity stunt? Μια δήλωση από τους ίδιους τους Rammstein θα έλυνε το θέμα.... 
---
'Ηρθε και η δήλωση λοιπόν. Ο Till Lindeman δεν φέυγει από τους Rammstein. Μέσω του official των Rammstein, όπως ακριβώς ανανεώθηκε στις 19 Ιουλίου:
COUNTERSTATEMENT REF. "TILL LINDEMANN LEAVES RAMMSTEIN"
Since
the rumour did alarm people that Till Lindemann would leave Rammstein
after the release of the upcoming album, we are pleased to inform you
that after consulting Rammstein manager Emanuel Fialik, the so-called
news turns out being a fake.
"Neither Till Lindemann nor another band member plans to leave
Rammstein. The band is currently working on the next album and is in an
excellent mood. As the greed for news is the actual doping in cycling,
this 'news' is only serving those who spread the same. Though the world
knows now that EnEsch has moved to Berlin, even the poor EnEsch was
shocked by the outlook to have to step into Till Lindemanns footsteps.
I hope he and the fans of the band will recover soon from this false
report."
Rammstein - Sonne live from Volkerball DVD
{youtube}HSx2bA8jBDI{/youtube}