Οι Astronauts για συναυλία στο An club!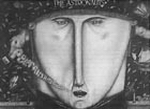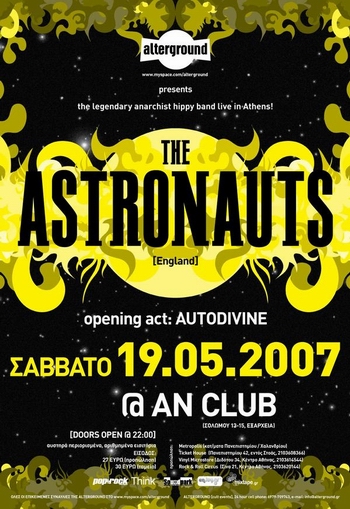 the legendary anarchist hippy
band live in Athens!
Με τη θρυλική φιγούρα
του Mark Astronaut να στέκεται ακόμα στο τιμόνι ενός από τα πλέον προχωρημένα
βρετανικά συγκροτήματα των τελευταίων 30 ετών (σχηματίστηκαν το 1977)...
Με
ιδιαιτέρως φανατικό κοινό στην Ελλάδα (τα δύο πρώτα εξαιρετικά LPs τους,

"Peter Pan Hits The Suburbs" & "It's All Done By Mirrors" τους έγραψαν
ιστορία
ως ελληνικές cd κυκλοφορίες της Lazy Dog, πίσω στα μέσα των
90s)...
Με κλασικούς ύμνους των 80's όπως το Protest Song, να προκαλούν ακόμα
ρίγη στο άκουσμά τους...
Με ισχυρούς δεσμούς αίματος με ιστορικές πάνκικες
κολεκτίβες όπως οι Crass, οι Zounds και οι The Mob...
opening act:
AUTODIVINE
ΣΑΒΒΑΤΟ 19 ΜΑΪΟΥ
2007
[DOORS OPEN @ 22:00]
@ AN CLUB
(ΣΟΛΩΜΟΥ 13-15, ΕΞΑΡΧΕΙΑ)
ΕΙΣΟΔΟΣ:
27 ΕΥΡΩ (προπώληση)
30 ΕΥΡΩ (ταμείο)
αυστηρά περιορισμένα,
αριθμημένα εισιτήρια
η προπώληση ξεκινάει σε λίγες
ημέρες:
Metropolis (καταστήματα Πανεπιστημίου /
Χαλανδρίου)
Ticket House (Πανεπιστημίου 42, εντός Στοάς,
τηλ.: 210-36 08 366)
Vinyl Microstore (Διδότου 34, Κέντρο
Αθήνας, τηλ.: 210-36 14 544)
Rock & Roll Circus (Σίνα
21, Κέντρο Αθήνας, τηλ.: 210-36 20 144)