Οι Blancmange στην Αθήνα!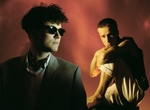 Αν όλα πάνε καλά, πρόκεται απλά για την αρχή και μόνο
μιας σειράς events, όπου ένα παλιό και κλασσικό συγκρότημα θα παίζει
μαζί με ένα ελπιδοφόρο. Οι Blancmange είναι από τα πιο σημαντικά
και χαρακτηριστικά συγκροτήματα της electropop όπως αυτή διαμορφώθηκε
στις αρχές των 80's στην Βρετανία, με 2 τουλάχιστον εξαιρετικά για το είδος άλμπουμς και μεγάλες επιτυχίες όπως τα Waves, Living on the Ceiling, Blind Vision, Don't Tell Me και αρκετά ακόμα.
Να σημειωθεί, ότι το πρώτο τους τραγούδι, Sad Day,
συμπεριλήφθηκε στην παρθενική θρυλική συλλογή της Some Bizzare μαζί με άλλα
synthpop συγκροτήματα που έκαναν τα πρώτα τους βήματα εκείνη την εποχή
(Depeche Mode, Soft Cell, B-Movie, The Fast Set, etc).
Το ντουέτο (Neil Arthur - Stephen Luscombe) επέστρεψε στην δισκογραφία το 2011 μετά από 25 χρόνια και θα εμφανιστεί live στο Fuzz στις 23 Φεβρουαρίου 2013. Τη συναυλία θα ανοίξουν οι Echoes, ένα νέο ηλεκτρονικό συγκρότημα που ήδη έχει αποσπάσει θετικότατες κριτικές και έχει υπογράψει συμβόλαιo με την Wall Of Sound. Την βραδιά θα πλαισιώσει ένα special DJ-Set από το αφεντικό της εν λόγω εταιρείας, Mark Jones και είναι συμπαραγωγή της Undo Records και της Βack Τo Τhe Phuture.
Περισσότερα για το event σύντομα!
{youtube}IbMi1Wg3uQU{/youtube} 
{youtube}L03PJeB38dI{/youtube}