Οι Dead Can Dance για 2 συναυλίες στην Ελλάδα!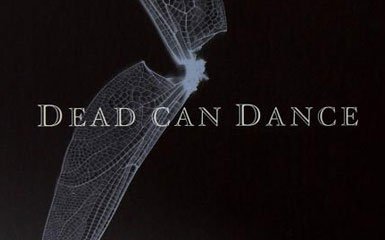 Σας προετοιμάσαμε χθες με το κείμενο του Frankly mr. Bill Shankly στην στήλη Miskoteque όπου εισχώρησε με σουρεαλιστικό τρόπο στα άδυτα του Within the Realm of a Dying Sun και σήμερα έχουμε τα πραγματικά και υπέροχα νέα για τους Dead Can Dance που περιμέναμε εδώ και καιρό. Αρχικά σημειώστε τις ημερομηνίες από τώρα, 21 και 23 Σεπτεμβρίου 2012 σε Θεσσαλονίκη και Αθήνα αντίστοιχα, ο Brendan, η Lisa και η μεγάλη παρέα τους live για τρίτη φορά  στα μέρη μας! H συναυλία της Αθήνας θα γίνει στο Θέατρο Λυκαβηττού, όπως ακριβώς και το 1996, ενώ αυτή της Θεσσαλονίκης στο Θεατρο Γης. Τις συναυλίες διοργανώνει η DiDi Music, η οποία ανταποκρίθηκε πολύ γρήγορα στο ερώτημα που θέσαμε πριν 2 μήνες....
Υπενθυμίζω ότι στο τέλος του καλοκαιριού θα έχει κυκλοφορήσει και το καινούριο studio album των Dead Can Dance, μέρος του οποίου λογικά θα παίξουν στην τουρνέ τους.  Τα εισιτήρια θα κυκλοφορήσουν στις 27 Μαρτίου, δείτε παρακάτω  τιμές και σημεία προπώλησης, την ανακοίνωση της τουρνέ από το ίδιο το συγκρότημα και κάποια παλιότερα σχετικά links.
Hello All,
We are pleased to announce we will be bringing the first leg of the World Tour to 22 European cities in September and October 2012.
As promised, we're sending this email out as we wanted to make sure that you, the fans who have signed up to our mailing list, are the very first people to know all of our news.
You can see a complete list of all the dates announced below. Tickets for the German and Hungarian dates will be on sale via www.deadcandance.com from 9am GMT this morning.
Further information and On Sale dates for the rest of the shows will also be found on the site.
SEPTEMBER
19th - HCTAT, Istanbul, Turkey
21st - Earth Theatre, Thessaloniki, Greece
23rd - Lycabetus Theatre, Athens, Greece
25th - MCV, Utrecht, Holland
27th - Grand Rex, Paris, France
29th - Cirque Royal, Brussels, Belgium
OCTOBER
1st - Alte Oper, Frankfurt, Germany
3rd - Tempodrom, Berlin, Germany
5th - CCH, Hamburg, Germany
7th - Philharmonie, Munich, Germany
8th - Philharmonie, Cologne, Germany
10th - KCP, Prague, Czech Republic
12th - Bkz Oktyabrsky, St. Petersburg, Russia
13th - Crocus City Hall, Moscow, Russia
15th - Sala Kongresowa, Warsaw, Poland
17th - Papp Laszlo Arena, Budapest, Hungary
19th - Teatro Degli Arcimboldi, Milan, Italy
20th - Batiment Des Forces Motrices, Geneva, Switzerland
22nd - Auditori, Barcelona, Spain
24th - Casa Da Musica, Porto, Portugal
26th - Royal Albert Hall, London, England
28th - Grand Canal Theatre, Dublin, Ireland
Dates for the North American, South American and Asian legs of the tour will be announced shortly, along with ticket sales information. As always, you will be the first to know.
See you in September, Europe!
Love,
Dead Can Dance
Θεσσαλονίκη, Παρασκευή 21 Σεπτεμβρίου 2012, Θέατρο Γης
Αθήνα, Κυριακή 23 Σεπτεμβρίου 2012, Θέατρο Λυκαβηττού
www.deadcandance.com
ΠΡΟΠΩΛΗΣΗ ΕΙΣΙΤΗΡΙΩΝ
Η προπώληση των εισιτηρίων θα ξεκινήσει
την Τρίτη 27 Μαρτίου 2012
Τα πρώτα εισιτήρια θα κοστίζουν 28 ευρώ
Μετά την εξάντλησή τους το εισιτήριο θα κοστίζει 35 ευρώ
Το εισιτήριο στο ΤΑΜΕΙΟ θα κοστίζει 40 ευρώ
Ισχύουν οι ίδιες τιμές εισιτηρίων και για τις δύο συναυλίες
Αθήνα
TICKETHOUSE
Πανεπιστημίου 42 (εντός της στοάς).
Τηλ.: 210 3608 366
Ωράριο Λειτουργίας
Δευτέρα – Παρασκευή: 10:30 – 18:30
Σάββατο: 10:30 – 16:00
Θεσσαλονίκη
MUSICLAND
Μητροπόλεως 102
Τηλ.: 2310 264 880
Ωράριο Λειτουργίας
Δευτέρα με Παρασκευή (πρωί): 10:30 – 14:30 &
Τρίτη, Πέμπτη, Παρασκευή (απόγευμα): 17:30 – 20:30
Σάββατο: 10:30 – 15:00
OnlineSales:
Για αγορές μέσω διαδικτύου με πιστωτική κάρτα, 24 ώρες/ωρο:
www.ticketpro.gr  | www.tickethouse.gr