Οι Raveonettes με νέο δίσκο στην Αθήνα!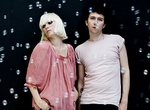 Η 
P90 Events
 παρουσιάζει:
THE RAVEONETTES 
ΚΥΡΙΑΚΗ 16 ΔΕΚΕΜΒΡΙΟΥ @
ΚΥΤΤΑΡΟ LIVE, ΑΘΗΝΑ 
Η προπώληση εισιτηρίων έχει ξεκινήσει!
Οι
Sune Rose Wagner και Sharin Foo, αποτελούν ιδιάζουσες καλλιτεχνικές
προσωπικότητες και αυτό γίνεται γρήγορα αντιληπτό μέσω της μουσικής
τους. Αγαπημένοι του ελληνικού κοινού από το ξεκίνημα τους, μετράνε αισίως έξι κυκλοφορίες. Πατώντας στην
βαριά κληρονομιά των Jesus and Mary Chain και Velvet Underground έχουν
καταφέρει εδώ και σχεδόν μια δεκαετία να ξεχωρίσουν για
το εκρηκτικό μείγμα garage και fuzz pop που παράγουν! "Love
in a Trashcan", "Heart of Stone" "The Great Love Sound", είναι μερικές
από τις επιτυχίες τους που λίγο πολύ όλοι έχουμε σιγοτραγουδήσει. Η επιστροφή τους στην Ελλάδα (μετά από κάτι περισσότερο από πέντε χρόνια) είναι γεγονός!
Info:
Τιμή εισιτηρίου: 25e
Προπώληση: Ticket House,
Πανεπιστημίου 42. Αθήνα κέντρο, Τηλ: 210 3608366 & Vinyl Microstore,
Διδότου 34, Εξάρχεια, Τηλ: 210 3614544.
Κύτταρο Live, Ηπείρου 48 & Αχαρνών, Τηλ: 210 8224134
Οι πόρτες ανοίγουν 21:00 / Έναρξη 21:30
Αυτά από το δελτίο τύπου της P90 Events, τώρα όσον αφορά τη καινούρια τους δουλειά θα βρίσκεται στα μαγαζιά την επόμενη βδομάδα. Ο τιτλος και το περιεχόμενο του δίσκου (observator) είναι εμπνευσμένο από ένα τριήμερο καταχρήσεων που πέρασε ο τραγουδιστής του συγκροτήματος στο Venice Beach του Los Angeles παρατηρώντας τους ανθρώπους που γνώρισε εκείνο το διάστημα. Το album είναι ηχογραφημένο στα Sunset Sound Recorders studios του Los Angeles και η επιλογή αυτή έγινε γιατί ο Wagner ήθελε να ηχογραφήσει στο ίδιο στούντιο "όπου οι Doors έγραψαν τα καλύτερα τραγούδια τους."  ("environment surrounded by all those ghosts of genius"..) Εχμμ.. Tracklist - εξώφυλλο και video:

The Raveonettes - Observator
Release Date: September 11, 2012
1. Young And Cold
2. Observations
3. Curse The Night
4. The Enemy
5. Sinking With The Sun
6. She Owns The Streets
7. Downtown
8. You Hit Me (i'm Down)
9. Till The End    
{youtube}zGBLKevkdUw{/youtube}