Peter Hook εναντίον New Order: η συνέχεια!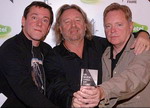 Ο Hooky είναι πολύ θυμωμένος και έχει πολλούς λόγους να είναι απογοητευμένος, όπως λέει. Επιμένει οτι το group έχει διαλυθεί και οτι τα 2/3 του δεν μπορούν να κάνουν τίποτα με το όνομα New Order όσο αυτός έχει το 1/3. Επίσης, οτι δεν έχει καμία προσωπική σχέση με τους άλλους εδώ και χρόνια ενώ μιλάνε μέσω τρίτων. Και τέλος οσον αφορά αυτόν, οι New Order διαλύθηκαν το περασμένο Φλεβάρη.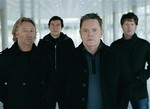 Η επίσημη δήλωση των Summer και Morris: "Due to recent questions that have arisen over the future of New Order
at both the Cannes Film Festival and the Mojo Awards, Bernard Sumner
and Stephen Morris have today decided to issue a press statement.
Bernard
and Stephen - After 30 years in a band together we are very
disappointed that Hooky has decided to go to the press and announce
unilaterally that New Order have split up. We would have hoped that he
could have approached us personally first. He does not speak for all
the band, therefore we can only assume he no longer wants to be a part
of New Order.
Whatever happens musically or otherwise, New Order have NOT split up, they continue to exist.
New Order will be making no further comment about this matter. "
To blog του Hook: " Well im here at last with my statement! im travellin round america
at the moment so its difficult for me to reply properly> Ive decided
to tell the whole story?  so itll be an amusing? insight into how
groups work...
FIRST. Damning me for doing something as in not coming to you
personally? and then doin the same thing , never heard of two wrongs
dont make a right?
My god if i was to list my disappointments with this group id miss
my plane to frisco.My first thoughts were very angry but now ive slept
on it or not rather its sadness really ! this is getting political and
personal so here goes......................
SECOND> never assume anything! This group has SPLIT UP! you  are
no more new order than i am! you may have two thirds but dont assume
you have the rights to do anything NEW ordery cos you dont ive still
got a third! But am open to negotiation.
 THIRD. Just in case you hadnt noticed weve not had a "PERSONAL"
relationship for a long time now...years in fact! whenever you contact
me its through the management(like hale and pace eh?) i did exactly the
same you all knew what was happening re the split! in FEBRUARY! using
cannes and mojo as some excuse to at last get your own back is wrong.
FOURTH. i have never spoken on your behalf i wouldnt presume to. i
spoke for myself WE HAVE SPLIT! as traceyBB would say "deal wiv it!so
as one third of ex new order im off to gate 36 and pizza hut. ive got a
lot to tell you all but this has worn me out for a while so normal;
service will be resumed as soon as possible!
See you in court! love hookyx "
Βέβαια αυτό γράφτηκε σε μία ιντερνετική διέυθυνση που τελειώνει σε peterhookneworder και σε ένα κόσμο που κάνεις φίλους σου τους Joy Division και τους λες καλό σαββατοκύριακο. Χλωμό να ξαναηχογραφήσουν πάντως. Αν και ποτέ δεν ξέρεις...