The Residents live + new album details!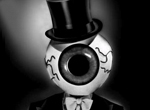 Η ΑΝΩΣΗ ΠΑΡΟΥΣΙΑΖΕΙ ΤΟΥΣ RESIDENTS ΣΤΟ ΟΛΟΚΑΙΝΟΥΡΓΙΟ PROJECT ΤΟΥΣ "THE BUNNY BOY" ΠΟΥ ΚΥΚΛΟΦΟΡΕΙ ΣΕ CD ΣΤΙΣ ΑΡΧΕΣ ΤΟΥ ΣΕΠΤΕΜΒΡΗ.


ΟΙ RESIDENTS, ΜΙΑ ΑΠΟ ΤΙΣ ΠΙΟ ΧΑΡΙΣΜΑΤΙΚΕΣ, ΕΝΔΙΑΦΕΡΟΥΣΕΣ ΚΑΙ
ΠΑΝΤΟΤΙΝΑ ΚΑΙΝΟΤΟΜΕΣ ΜΠΑΝΤΕΣ (ΚΑΙ ΟΧΙ ΜΟΝΟ), ΘΑ ΕΜΦΑΝΙΣΤΟΥΝ ΤΟ ΣΑΒΒΑΤΟ
15 ΝΟΕΜΒΡΙΟΥ ΣΤΗΝ ΘΕΣΣΑΛΟΝΙΚΗ ΣΤΟ PRINCIPAL CLUB ΚΑΙ ΤΗΝ ΚΥΡΙΑΚΗ 16
ΝΟΕΜΒΡΙΟΥ ΣΤΗΝ ΑΘΗΝΑ ΣΤΟ ΘΕΑΤΡΟ ΠΑΛΛΑΣ.

ΤΑ ΕΙΣΙΤΗΡΙΑ ΣΤΗΝ ΑΘΗΝΑ ΘΑ ΚΟΣΤΙΖΟΥΝ : 40 / 50 / 80 ΚΑΙ 100 ΕΥΡΩ ΚΑΙ
ΘΑ ΠΡΟΠΩΛΟΥΝΤΑΙ ΑΠΟ ΤΗΝ ΔΕΥΤΕΡΑ 1 ΣΕΠΤΕΜΒΡΙΟΥ:

> ΣΤΟ ΤΑΜΕΙΟ ΤΟΥ ΠΑΛΛΑΣ, ΒΟΥΚΟΥΡΕΣΤΙΟΥ 5, ΣΥΝΤΑΓΜΑ,
ΤΗΛ: 210 3213100, ΔΕΥΤΕΡΑ-ΣΑΒΒΑΤΟ : 10:00 - 18:00

> ΣΤΟ PUBLIC, ΚΑΡΑΓΙΩΡΓΗ ΣΕΡΒΙΑΣ, ΠΛΑΤΕΙΑ ΣΥΝΤΑΓΜΑΤΟΣ

> ΣΤΑ FNAC ΓΛΥΦΑΔΑΣ ΚΑΙ ΑΜΑΡΟΥΣΙΟΥ

ΣΤΗΝ ΘΕΣΣΑΛΟΝΙΚΗ ΤΑ ΕΙΣΙΤΗΡΙΑ ΘΑ ΠΡΟΠΩΛΟΥΝΤΑΙ ΣΤΟ METROPOLIS ΚΑΙ Η ΤΙΜΗ ΤΟΥΣ ΘΑ ΕΙΝΑΙ 30 ΕΥΡΩ.

---
Σύμφωνα με το official των Residents το "The Bunny Boy" αποτελείται από "19 fast paced songs" about [o]bsession, insanity and the coming Apocalypse" ενώ, εκτός από την προγραμματσιμένη περιοδεία, το album θα συνοδέψει και μία internet narrative series. Cover και tracklist:
Boxes of Armageddon
Rabbit Habit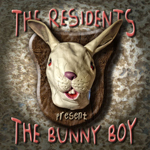 I'm Not Crazy
Pictures from a Little Girl
What If It's True?
Fever Dreams
Butcher Shop
I Like Black
Secret Room
My Nigerian Friend
It Was Me
Golden Guy
The Bunny Boy
Blood on the Bunny
I Killed Him
The Dark Man
Secret Message
Patmos
Black Behind