Σας αρέσει το early fashion image των Suede? Στους ίδιους όχι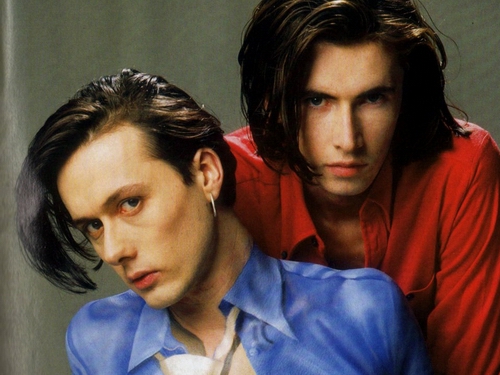 Έτσι τουλάχιστον μαθαίνουμε από τον ίδιο τον Brett Anderson, ο οποίος ομολογεί πως οι στυλιστικές επιλογές τους στην αρχή της καριέρας τους επιβλήθηκαν από την αναγκαιότητα να βρίσκουν φτηνά ρούχα λόγω της οικονομικής τους δυσχέρειας και όχι επειδή ήθελαν να μοιάζουν "με καμαρωτά παγώνια".  "We were styled accidentally by Oxfam" παραδέχεται, την εποχή  που κανείς έβρισκε εκεί ρούχα αρκετών χρόνων παλαιότερα. Αν και επηρεάστηκε από τον 60s/70s κινηματογράφο που παρακολουθούσε εκείνο τον καιρό, όπως το The Servant του Joseph Losey και τις ταινίες του Alan Bates, το retro chic look που υιοθέτησαν δεν ήταν και τόσο συνειδητή επιλογή όπως ο κόσμος νομίζει, όσο το ότι η οικονομική τους κατάσταση τους οδήγησε σε αυτό, το οποίο τουλάχιστον διατηρούσε μια βρετανική αίσθηση.
Όσον αφορά τα σέξι θηλυπρεπή μπλουζάκια που έγιναν θρυλικά, μετανιώνει που επέτρεψε στον εαυτό του να γίνει cartoonish και σημειώνει με ειλικρίνεια πως ο μοναδικός λόγος που τα φορούσε ήταν επειδή του τα έσκιζαν σε κάθε live. Οπότε αναγκαζόταν να βγαίνει κάθε μέρα σε φτηνά μαγαζιά όταν βρισκόταν σε περιοδεία για να αγοράσει ό,τι βρει, καθώς ήξερε ότι θα χαλάσουν αμέσως.  Ωστόσο, παρόλο που πλέον έχει την δυνατότητα και αγοράζει ρούχα που πραγματικά του αρέσουν ανεξαρτήτως τιμής, συνεχίζει να επισκέπτεται charity shops και να ψαχουλεύει τα ρούχα ξένων ανθρώπων. " I'm like one of those people who doesn't want to buy a house but still books appointments with estate agents just to have a look around".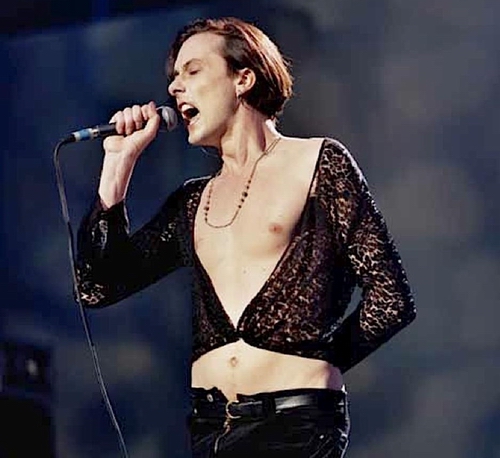 Σε άλλα σχετικά με τους Suede νέα, θα ξανακυκλοφορήσουν το περίφημο Dog Man Star για να γιορτάσουν τα 20 χρόνια από την πρώτη φορά που βγήκε στα δισκοπωλεία. Αυτή τη φορά σε Box με αρκετά περιεχόμενα, αλλά σαν πολλές επανακυκλοφορίες δεν μαζεύτηκαν φίλε Brett?  Όπως και να'χει, για όσους δεν το πήραν τότε, για όσους δεν πήραν το Deluxe remaster & expanded πριν μερικά χρόνια, για όσους δεν πήραν την special έκδοση βινυλίου πέρυσι και τέλος για όσους είναι τόσο Suede freaks ώστε να το αγοράσουν για 4η-5η φορά, η νέα επετειακή έκδοση θα περιέχει τα εξής: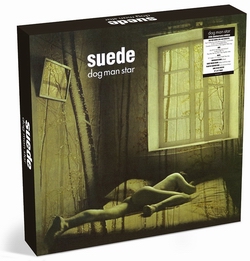 BLU-RAY AUDIO, CDs and CASSETTE
High Fidelity Pure Audio Blu-ray of album and B-sides
2 CDs in mini gatefold sleeve
Cassette of entire album, with original 1994 inlay
DVD
July 2013 interviews with Brett Anderson, Bernard Butler, Mat Osman and producer Ed Buller.
Performances on TOTP and The O Zone in 1994
Dog Man Star tour films, Stay Together promo video
VINYL
12"singles of Stay Together (non-album single, in original gatefold sleeve available exclusively to D2C store) We Are The Pigs and The Wild Ones.
7" single of NME Flexi disc in original sleeve.
HARDBACK BOOK [48pp], INCLUDING:
Notes by Brett Anderson
Photos, handwritten lyrics, recording info, press cuttings
SHEET MUSIC BOOK [48pp] with five songs
PLASTIC CARRIER BAG with exclusive design
DMS 20 A2 POSTER
12" x 12" PRINT