Shockwaves NME music awards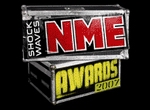 Best Britsh Band: Νικητές ήταν οι Muse. Το αποτέλεσμα ανακοινώθηκε από τον Ricky Wlson (Kaiser Chiefs) και τον Peter Hook (New Order), ενώ οι υπόλοιπες υποφηφιότητες ήταν Kasabian, Arctic Monkeys, Babyshambles και Οasis.
Best album: Το "Whatever people say...." των Arctic Monkeys.
Best song: "Wasted little DJs" από τους The View.
Best new band: Οι Klaxons ήταν οι νικητές. Υποψήφιοι ήταν ακόμα οι Horrors, The Kooks. The View και the Fratellis.
Best International Band: My Chemical Romance
Best solo artist: Εκπληξη με νικητή τον Jamie T, που νίκησε καλλιτέχνες όπως ο Jarvis Cocker και ο Thom Yorke.
Best live band : Kasabian
Best music video: Το 'bones" των Killers, σκηνοθετημένο από τον Tim Burton.
Best Radio Show: Zane Lowe (Radio 1)
Best live event: carling weekend- Reading & Leeds festival
Eπίσης, οι Primal Scream πήραν το "godlike genious" (??!!) βραβείο και εξέπληξαν διακευάζοντας ζωντανά το κλασικό τραγούδι των Clash "white man (in Hammersmith Palais)". Ακόμα περισσότερα στην ιστιοσελίδα του NME