Sigur Ros new album!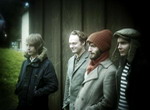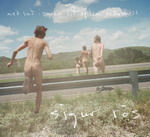 1.          Gobbledigook 
2.          Inní mér syngur vitleysingur
3.          Góðan daginn 
4.          Við spilum endalaust 
5.          Festival 
6.          Með suð í eyrum 
7.          Ára bátur
8.          Illgresi 
9.          Fljótavík 
10.        Straumnes 
11.       All alright
Το πρώτο single " Gobbledigook" θα παιχτεί σήμερα για πρώτη φορά από το Radio 1 και αμέσως μετά θα είναι διαθέσιμο για download από το sigurros.com. Η προπώληση ξεκινά στις 2 Ιουνίου μέσω του site και όσοι κάνουν τις παραγγελίες τους θα το ακούσουν μέσω streaming στις 9 Ιουνίου. Θα υπάρχει και deluxe έκδοση του "With a buzz..." με βιβλιαράκι και οπτικό υλικό κ.α. και μια σειρά από goodies για τους subscribers.
Σύμφωνα με το δελτίο τύπου οι Sigur Ros είχαν επηρεαστεί από το κλίμα της διαδικασίας του making of του Heima  dvd και ο νέος δίσκος δημιουργήθηκε μέσα σε λίγους μήνες. Εκτός από το studio τους και μία εκκλησία στο Reykjavík ταξίδεψαν για ηχογραφήσεις στο Λονδίνο, στη Νέα Υόρκη και στην Κούβα! Το reverb έχει δώσει τη θέση του σε πιο ευθραυστους ήχους, αλλά ο επικός χαρακτηράς εξακολουθεί να είναι δυνατός. "The album glows with the perfect imperfection of live takes, the sounds
of fingers playing guitar strings, cracked notes, and a stark, upfront
presence..." Διαβάστε περισσότερα στα παρακάτω links ενώ ακολουθεί ένα μικρό behind the scenes video.
Δυστυχώς στην τεράστια περιοδεία τους δεν συμπεριλαμβάνεται η Ελλάδα. 
Sigur Rós - viðrar vel til loftárása
{youtube}akYuy2FMQk4{/youtube}