Ψηφίστε τα καλύτερα ALBUMS του 2014 - Postwave.gr annual music polls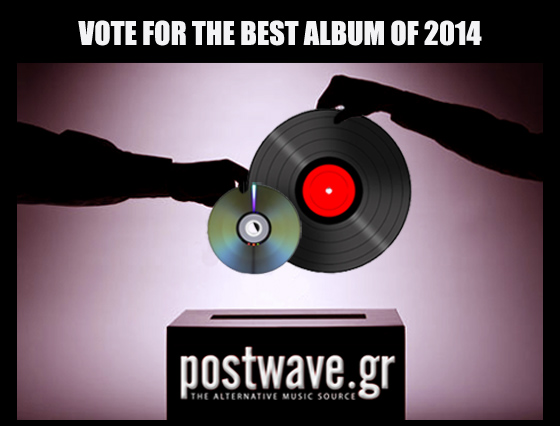 Ψηφίζετε για το καλύτερο album του 2014. Η παραπάνω λίστα περιέχει μερικές από τις πιο σημαντικές κυκλοφορίες του 2014. Μπορείτε να ψηφίσετε μέχρι 5 δίσκους σημαδεύοντας 5 επιλογές και μετά κάνοντας click στο κουμπί "vote". Αν θέλετε γράφτε τι ψηφίσατε και σχολιάστε.
Παρακαλώ μην κάνετε σχόλια τύπου "γιατί δεν υπάρχει ο τάδε δίσκος στη λίστα.." κτλ. Η απάντηση είναι απλή. Δεν υπάρχει γιατί είτε τον ξεχάσαμε (ένα μυαλό είναι αυτό), είτε γιατί θεωρήσαμε ότι θα πάρει ελάχιστες ψήφους και έπρεπε να γίνει ένα ξεκαθάρισμα, είτε γιατί απλά δεν γνωριζουμε την ύπαρξή του. Αν στις επιλογές σας λοιπόν υπάρχει και το "other" παρακαλώ να γράψετε ποιο album εννοείτε ώστε να το προσθέσουμε στην τελική λίστα.
Μπορείτε ακόμα να ψηφίσετε και στις κατηγορίες Best Concert και Best "Greek" Album.
Previous winners
2004: MORRISSEY - you are the quarry
2005: DEPECHE MODE - playing the angel
2006: PLACEBO - meds
2007: INTERPOL - our love to admire
2008: PORTISHEAD - third
2009: WHITE LIES - to lose my life
2010: ARCADE FIRE - the suburbs
2011: PJ HARVEY - Let England Shake
2012: SWANS - The Seer
2013: NICK CAVE & THE BAD SEEDS - Push The Sky Away
The results of this poll are not available.