Ψηφίστε τα καλύτερα Ελληνικά ALBUMS του 2014 - Postwave.gr annual music polls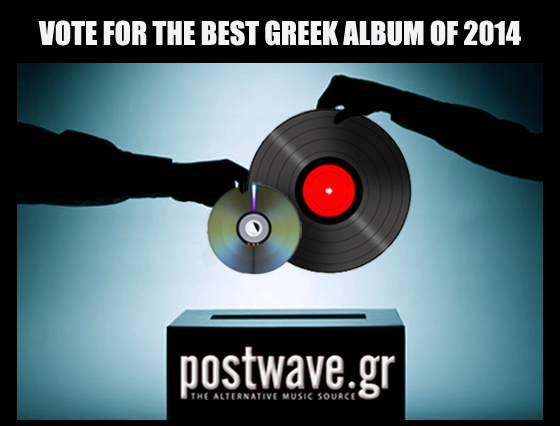 Ψηφίζετε για το καλύτερο album από ελληνικό συγκρότημα ή καλλιτέχνη για το 2014. Η παραπάνω λίστα περιέχει τις περισσότερες κυκλοφορίες του 2014 που μας αφορούν. Συγνώμη αν κάτι μας ξέφυγε, δεν είναι και πολύ εύκολο πλέον. Μπορείτε να ψηφίσετε μέχρι 3 δίσκους σημαδεύοντας 3 επιλογές και μετά κάνοντας click στο κουμπί "vote". Αν θέλετε γράφτε τι ψηφίσατε και σχολιάστε.
Αν στις επιλογές σας υπάρχει και το "other" παρακαλώ να γράψετε ποιο album εννοείτε ώστε να το προσθέσουμε στην τελική λίστα.
**Albums που έχουν κυκλοφορήσει μόνο ψηφιακά δεν συμπεριλαμβάνονται, καθότι είναι εκατοντάδες.
Μπορείτε ακόμα να ψηφίσετε και στις κατηγορίες Best Album και Best Concert
Previous winners
2002: IVORY FREQUENCY - plug-in
2003: MIKRO - tronik*πλάσμα
2004: MARSHEAUX - e-bay queen
2005: RAINING PLEASURE - reflections
2006: FILM - angel b
2007: MARSHEAUX - peek a boo
2008: FLAKES - lick your fingers if you like it
2009: MATISSE - rock n' roll mafia
2010: ELECTRIC LITANY - How To Be A Child And Win The War
2011: OTHON - impermanence
2012: WONKY DOLL & THE ECHO - Pleasant Thoughts
2013: DORIC - Over Mentality
Best album of 2014 by Greek Act
The results of this poll are not available.