Ψηφίστε τις καλύτερες ΣΥΝΑΥΛΙΕΣ του 2014 - Postwave.gr annual music polls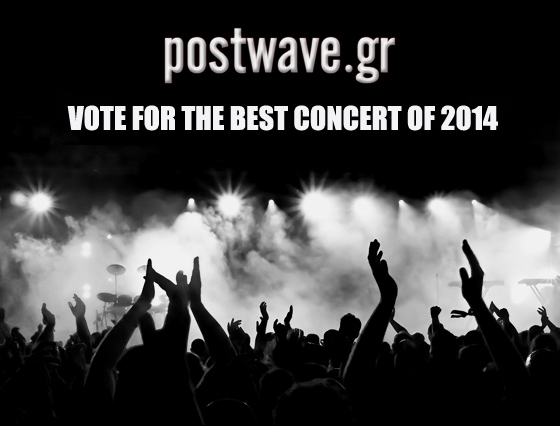 Ψηφίζετε για την καλύτερη συναυλία του 2014 στη Ελλάδα. Η παρακάτω λίστα περιέχει τις περισσότερες συναυλίες που μας αφορούν και έγιναν στη χώρα μας το 2014. Μπορείτε να ψηφίσετε μέχρι 5 συναυλίες σημαδεύοντας 5 επιλογές και μετά κάνοντας click στο κουμπί "vote". Αν θέλετε γράφτε στα comments τι ψηφίσατε και σχολιάστε.
Αν στις επιλογές σας υπάρχει και το "other" παρακαλώ να γράψετε ποια συναυλία εννοείτε ώστε να τη προσθέσουμε στην τελική λίστα. Δεν συμπεριλαμβάνονται συναυλίες ελληνικών συγκροτημάτων γιατί είναι εκατοντάδες.
Σε περίπτωση που στις επιλογές σας είναι κάποια συναυλία της Θεσσαλονίκης, δώστε την ψήφο σας στην αντίστοιχη της Αθήνας που αναγράφεται.
Μπορείτε ακόμα να ψηφίσετε και στις κατηγορίες Best Album και Best "Greek" Album.
Previous winners
2005: THE CURE (sep 1, Terra Vibe)
2006: DEPECHE MODE (aug 1, Terra Vibe)
2007: LISA GERRARD (nov 9, Pallas)
2008: BRETT ANDERSON (nov 20, Polis) - NICK CAVE & the BAD SEEDS (jun 7, Lecabettus)
2009: NINE INCH NAILS (july 20, Θ. Βράχων)
2010: EINSTURZENDE NEUBAUTEN (october 30-31, Fuzz)
2011: PULP (august 20, Terra Vibe)
2012: DEAD CAN DANCE (23 Σεπτεμβρίου, Λυκαβηττός)
2013: DEPECHE MODE(10 May, Terra Vibe)
The results of this poll are not available.